Every year at the Mac Expo, Steve Jobs used to unveil some fantastic new, game-changing technology from Apple. His presentations were always outstanding, both for the content and for entertainment value.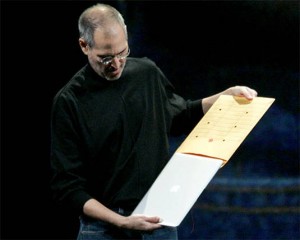 For instance, when he introduced the MacBook air back in 2009, he didn't just talk about the specs of the new product, he demonstrated its thinness by pulling their tiny new laptop out of a 9×12 manilla envelope.
It wasn't just passion and natural charisma that made Jobs an effective communicator. It was his ability to convey ideas in simple, concise ways. He used honest demonstrations. Stories. Theater. And yes, some Hollywood special effects. Not Powerpoint.