It's interesting, where people find inspiration. For some business owners, it's the pages of Forbes or biographies of big-name entrepreneurs. For Monet, it was the garden. For me it's the bookstore, the ski slopes, or the trails.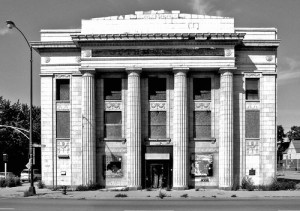 The bank is definitely not on my list.
Banks are not known for their inspiring environments or groundbreaking business practices. In fact, the entire banking industry has a huge cloud hanging over its head, every since the mortgage banking debacle of 2009.
The most exciting thing to ever happen at my bank was the emancipation of the counter pens… They were released from their chains and replaced with crappy logo pens that are now free to take home with just a purchase of a $10,000 15-year Certificate of Deposit.