I think all entrepreneurs should study advertising.
Advertising is an industry of ideas. Great ideas — paired with exceptional execution — produce growth for clients, win awards, and vault agencies into the national spotlight.
The same can be said for brands. Businesses that start with a big idea, and then stick to it, are the ones that become iconic brands.
Campbell's owns the idea of "comfort food." That brand is not about the soup, it's about the rainy day when your kids are home for lunch and you sit down for a bowl of soup and grilled cheese sandwiches. Campbell's warms, comforts, nourishes, takes you back in time and puts a smile on your face. All for less than a buck.
Maytag owns the idea of worry-free appliances. For more than 30 years their advertising has communicated dependability brilliantly with the lonely, Maytag repairman who never has anything to do.
Now he even has an apprentice! The Leo Burnett Agency recently introduced a strapping new version of Maytag repairman… a side-kick who can talk about technological advancements and appeal to younger women.
The Maytag repairman character is so iconic Chevy actually used them in a television spot touting the Impala's reliabiity. Maytag owns the idea. Chevy's just borrowing it.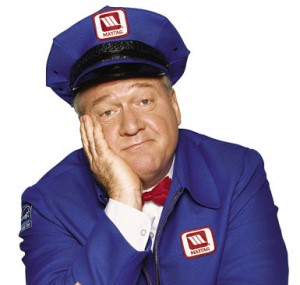 Maytag's core brand idea helps segment the market and differentiate them from the competition. Nobody else in that category will try to claim the idea of "reliability." Won't work.
Volvo owns the idea of safety in a car. Even though driving an automobile is inherently risky, people believe they are safe in a Volvo. And that belief feeds the folklore that sustains that idea and brand image.
Funny story about Volvo shopping… Eight years ago I seriously considered buying a Volvo SUV for my family. I did the research and went to the local lot for a test drive. But the salesman blew it. He was so adamant about the brand's safety record, he tried to convince me that Volvo actually uses Swedish convicts as live test dummies.
True story, he cliamed. That's how Volvo developed such a safe car… by crashing them with convicts at the wheel. Needless to say, Volvo's reputation for safety and the car's luxurious ride couldn't trump the salesman's idiocy. I bought an Audi.
When Subway started they owned the idea of healthy fast food. It was healthier than McDonalds, and Jerod lost like a thousand pounds just by eating Subway Sandwiches!
Now Jimmy John's is trying to own the idea of FAST sandwiches. Not fast food, or sandwiches like Subway, but sandwiches delivered quickly, wherever you may be. That's a good strategy of differentiation, especially because their sandwiches aren't all that great. If they stick with the idea, and execute the idea religiously by actually delivering every sandwich faster than anyone expects, they'll have a winning business formula.
It's a core brand concept that's easily demonstrable in advertising. And that's particularly important when it's a category of parity. The sandwiches at Quiznos, Jimmy John's and Subway are all pretty much the same.
Insurance in another such category. It's a fairly even playing field in a low-involvement category. (Let's face it, dealing with insurance is about as much fun as going to the dentist.)
Allstate owns the idea of mayhem. In their current advertising campaign the agency put a face on mayhem, and gave him a smart-ass personality. Everybody knows somebody like that, you just hope your daughter doesn't date the guy
State Farm has a long-running slogan, "like a good neighbor." Unfortunately, neither the advertising nor the customer service support that idea.
Guess who owns the idea of sparkling white teeth? It's not Cologate. Not Crest. Not a toothpaste, at all. It's Orbit chewing gum, a fairly new brand from the master marketers at Wrigleys. The Orbit girl "cleaning up dirty mouths" campaign helped them capture the #1 spot in the chewing gum market.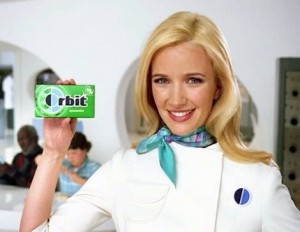 Coming up with a core brand concept is hard work. You really have to dig. And think. And explore.
Most of the good ideas have already been done, or can't be owned, authentically. That's the trick… finding a conceptual framework that honestly fits with your product or service offering. (At BNBranding we offer workshops for that.)
Many big brands don't own an idea at all. JCPenny, or JCP as they'd like us to say, doesn't own an idea. They're trying desperately to be younger, cooler and more hip than they used to be, but the name change and the slick new execution of of their print advertising doesn't make up for the lack of idea ownership.
Best Buy is another big retailer who's struggling.
Geico saturates the airwaves with humorous advertising and outspends everyone in the category. Thanks to an annual budget of $500 million a year the ghekko and the cavemen have become fixtures in Anerican pop culture, but the message is all over the place. There's no core brand idea that anyone can grasp.
I think Progressive Insurance copied the Orbit advertising, so now Progressive is the sparkling white insurance brand, for whatever that's worth.
Whether you're selling insurance or chewing gum, building a brand begins with a simple idea. Anybody can borrow some money, hang up a shingle and start their own business. But the companies that last, and become iconic brands, almost always start with a clearly defined, highly demonstrable idea that goes beyond just the product or service.
What's yours? I'd love to hear from you… leave a comment with your core brand idea, if you have one.